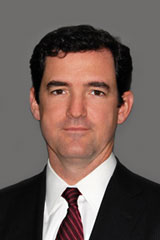 David Conolly
Executive Vice President & General Counsel,
Altice USA
David Connolly is Executive Vice President and General Counsel of Altice USA. In this role, he is responsible for all legal affairs across the U.S.
Previously, Mr. Connolly was a partner in Shearman & Sterling LLP, the law firm that represented Altice in its acquisition of Cablevision Systems Corporation. He served as an advisor to Altice for the transaction.
Mr. Connolly spent the past 14 years of his career at Shearman & Sterling LLP in New York, where he was a partner in the firm's Mergers & Acquisitions group. In this role, he represented multinational corporations, financial institutions, and professional sports franchises and their owners in a wide range of matters, including acquisitions, divestitures, spin-offs, solicited and unsolicited transactions, takeover defense strategies, joint ventures, financings and corporate governance matters. Mr. Connolly also was an active member of Shearman & Sterling's widely respected and award-winning pro bono program, where he advised clients focused on education and public health.
Mr. Connolly was named a "rising star" by International Financial Law Review in 2015 and he has been recognized by Legal 500 for his work in sports franchise mergers and acquisitions. Mr. Connolly also was named one of the "Top 40 Under 40" mergers and acquisitions professionals by M&A Advisor in 2011. In addition, he has published numerous articles and spoken at many industry conferences.
Mr. Connolly holds a B.A. from the College of the Holy Cross and a J.D. from Fordham University School of Law.