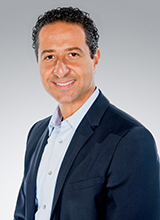 Paul Haddad
Global Chief Data Officer
Paul Haddad serves as Global Chief Data Officer for Altice Group, and leads the creation and monetization of a world-class data analytics practice across all of Altice Telecom and Media subsidiaries. Within this space, he is responsible for setting the foundation and launching local and global advertising solutions, while driving the development of innovative products and pricing strategies in each of Altice's territories. He also continues to lead and expand Altice USA's advanced data analytics business to provide clients with actionable data intelligence for more effective and efficient advertising.
Previously, Mr. Haddad was Senior Vice President & General Manager, Advanced Data Analytics for Cablevision Media Sales. He led the company's cutting-edge data business, leveraging Optimum's census-level audience data comprised of de-identified set-top box data from millions of households in the New York DMA.
Prior to joining Cablevision, Mr. Haddad served as Senior Vice President & General Manager of Concurrent's global "Media Data and Advertising Solutions" business. He also had responsibility as General Manager of Concurrent's combined video and data businesses in Europe, Middle East, and Africa. Earlier in his career, he founded Solusia Technologies, a leading information management software provider focused on the wireless industry, where he served as CEO. Before this, he spent nine years at Nortel in various leadership roles ranging from optical networks systems engineering, product management, and general management of the bandwidth trading and wireless backhaul divisions.
Mr. Haddad holds patents in the advanced data & information management systems, as well as bandwidth exchange technologies. As an expert in the field of data analytics and telecommunications, Mr. Haddad has presented at over 50 national and global conferences, and was nominated by TechAmerica for the "Technology Entrepreneur Spirit of Endeavor" award in 2011.
He holds a B.S degree in electrical engineering from Concordia University (Montreal), and has served 12 years as a member of the board of trustees of Wagner College in New York City.