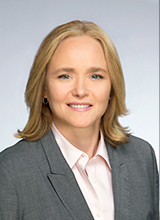 Victoria Mink
Senior Vice President, Chief Accounting Officer
Victoria Mink serves as Senior Vice President, Chief Accounting Officer, for Altice USA. In this role, she is responsible for all accounting and financial reporting compliance.
Prior to this role, Ms. Mink served as Senior Vice President, Controller and Principal Accounting Officer, for Cablevision Systems Corporation, where she set the strategic direction, goals and initiatives for the accounting, financial reporting, accounts payable, financial systems and advertising billing departments. In addition, she was responsible for presenting accounting and reporting matters to the Audit Committee, implementing new accounting policies, developing and monitoring compliance with company policies and compliance with Sarbanes Oxley. She also served on the Investment and Benefit Committee.
Prior to joining Cablevision in 1997, Ms. Mink was an audit manager with KPMG.